[ personal l a n d f i l l ]

[dawgisht] — 8.bitz.o.luv://dump.or.die.vol.05
79:41:69 minute mix of Amiga 8-bit Tracker-style Crunchy Instrumental Beats n'Shit
---
[dawgisht] — 8.bitz.o.luv://dump.or.die.vol.05
79:41:69 minute mix of Amiga 8-bit Tracker-style Crunchy Instrumental Beats n'Shit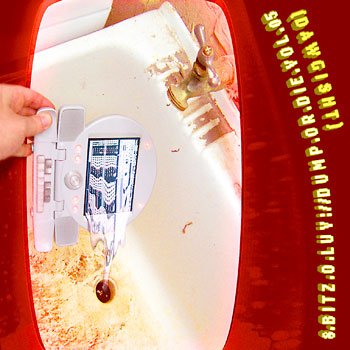 More info and MP3s to be posted here soon… check this page for tracklisting.

Also there you will find the tragically-comical WAR (if it feels good, do it!) CD,
a compilation of beats, scratches, samples, and propaganda put together by
DJ's of Mass Destruction (DJ Pone, Billy Jam and dawgisht... among many others)

Buy it now from HipHopSlam.com's Shop. Thank you!
Also available at Amoeba Music Berkeley and Hollywood, CA
Get it directly from this website very soon as well
i love your mom
Warning: This site is full of foul language, because swearing is easier, bushtch!
all art, music, n'shit copyright ©199o-2oo3, Geoff Rantala, except where noted n'shit
disclaimer: the opinions expressed here do not necessarily reflect those of Dawg Eat Dawg Designz
or any other upstanding citizens of the global community and all good and nice and things
| you should grab the flash plug-in